Oak Park River Forest High School
Class Of 1963
In Memory
William Miller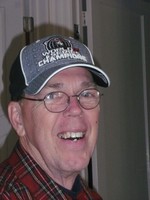 Here is Bill's obituary.

William R. "Bill" Miller, 68, of Oak Park, died on May 19 2014. Born on June 6, 1945 at West Suburban Hospital in Oak Park to the late James E. and Lucile R. nee Irmis Miller, he was a third generation and lifelong Oak Park resident.

He was graduated from Oak Park and River Forest High School in 1963 and attended Eastern Illinois University, then served as a sergeant with the Special Forces, U.S. Army, in Vietnam.

Mr. Miller worked for many years in the tool and die industry and was part owner of Superior Tool and Die Co. of Chicago. Most recently he was co-owner of Maimeri Import Co. He loved traveling and was passionate about the outdoors, particularly canoeing, sailing, camping and hiking.

Bill Miller was the father of Leah Miller; the brother of Richard (Iole Capiello) Miller, Marlyn Miller, and Geri (Don) McLauchlan (of Oak Park); the uncle of Chad, Brett and Shawn (Shena) Lockwood, and Alissa (James) Pfundstein; and the great-uncle of many. He also leaves behind a host of dear friends.

A memorial visitation will be held on Saturday, May 24, from 1 p.m. until time of service, 4 p.m., at 416 Wisconsin Ave. in Oak Park. Interment is private.

In lieu of flowers, donations to the West Cook YMCA (westcookymca.org) are appreciated.