Oak Park River Forest High School
Class Of 1963
In Memory
Donna Andree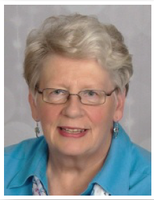 Obituary for Donna Rae Andree
On Saturday, January 4th, 2020 Donna Andree, loving mother and grandmother, passed away at the age of 73. Donna was born August 31st, 1946 to Virginia and Delbert Andree and raised in Oak Park IL. She attended Oak Park River Forest High School ('63) and went on to earn 2 Masters of Education from Indiana University (BA '67/MEd '70) and Northwestern University ('93).

For 27 years, Donna was a devoted and enthusiastic teacher at PMSA, Proviso East, and Proviso West High Schools, during which time she coached and led the academic decathlon team to a championship. Donna was the proud owner of The Christmas Branch custom ornaments for 46 years, an avid reader of many books, a true blue Cubs fan, a dedicated supporter of many organizations such as The PEO, and an honored sister in the Delta Zeta sorority, Indiana University chapter.

She is preceded in death by her father, Delbert, and mother, Virginia, and survived by her daughter, Jill, son, Neil (Stephanie), and granddaughters Audrey and Charlotte.

A memorial visitation will be held at Zimmerman-Harnett Funeral Home in Forest Park IL on Sunday January 12th, 2020 from 2:00 p.m. to 7:00 p.m. with a Service at 7:00pm.

In lieu of flowers, the family suggests donations to The Leukemia and Lymphoma Society in honor of Donna.
https://www.zimmermanharnett.com/obituaries/Donna--Rae-Andree?obId=10400055#/obituaryInfo